The Whole Beast
Hand Crafted, artisan cured and smoked meats
What is The Whole Beast?
We are an artisan cured meat producer based in Victoria, BC, Canada.
When we opened, our aim was to address a need in the community for high quality hand crafted cured meats using traditional techniques and ethically raised heritage breed animals. With the growing awareness and demand for products from this segment of the food industry, we felt that Victoria was ready to embrace a business that specializes in nose to tail inspired meat products.
Our Story.
Back in late 2010 Chef Cory Pelan, Chef and GM of Ristorante La Piola in Victoria, had an epiphany with a pig one afternoon while debating on locations to open his own restaurant. He was in the kitchen working through a whole pig delivery, breaking it down and creating a variety of different products. This is when he realized that while he was in this zone it was the happiest he had been during his entire working life. That was when the inspiration struck to turn his passion into a full-time operation, tapping into his "meat nerd" side. Chef Cory had been practicing and experimenting with techniques for years, always searching for the best ingredients to service his customers. Instead of ordering sausages and cured meats from distributors and getting a product that he wasn't satisfied with, he began to make them himself, in house. He first started with fresh sausages and then moved into cured and fermented products and those products became part of the menu wherever he was cooking. During this time he built and fostered many long-term relationships with local farmers and suppliers, championing ethical and sustainable practices in the industry.
Coinciding with this new vision, a serendipitous opportunity to move into a shared space with the Village Butcher presented itself. With this move The Whole Beast Artisan Salumeria was born, opening it's doors June 28th, 2011
Phone
(250) 590-PORK (7675)
Location
2032 Oak Bay Ave
Victoria, BC
V8R 1V4
Hours
T-S 9a–6p
Su 11a–4p
M Closed
Vision.
The Whole Beast's vision is to produce handmade, traditional, artisan cured meats without unnecessary additives, preservatives or fillers, while utilizing ethically raised, hormone and antibiotic free meats that are locally sourced. The Whole Beast gives customers a tangible connection to a growing sustainable food movement on Vancouver Island, while increasing awareness and appreciation for nose to tail products.
Owner Cory is an outspoken champion of the sustainable food movement with many connections to food security initiatives on Vancouver Island. Past president, treasurer and current board member of The Island Chefs Collaborative (http://www.iccbc.ca/), former board member for Slow Food Vancouver Island and stewardship team member representing Vancouver Island for Farm Folk City Folk.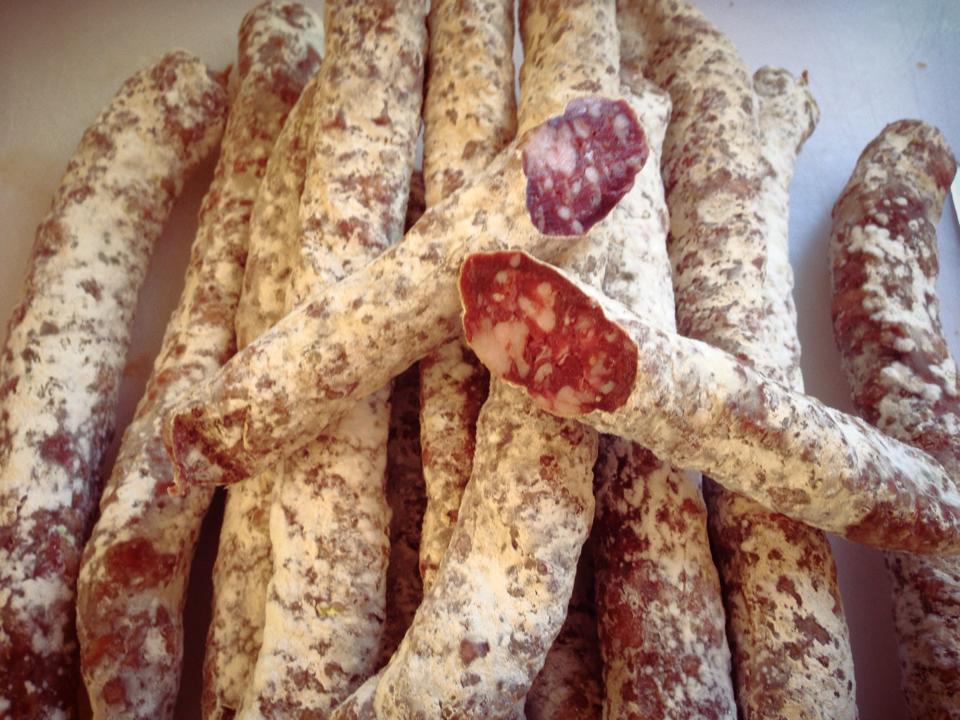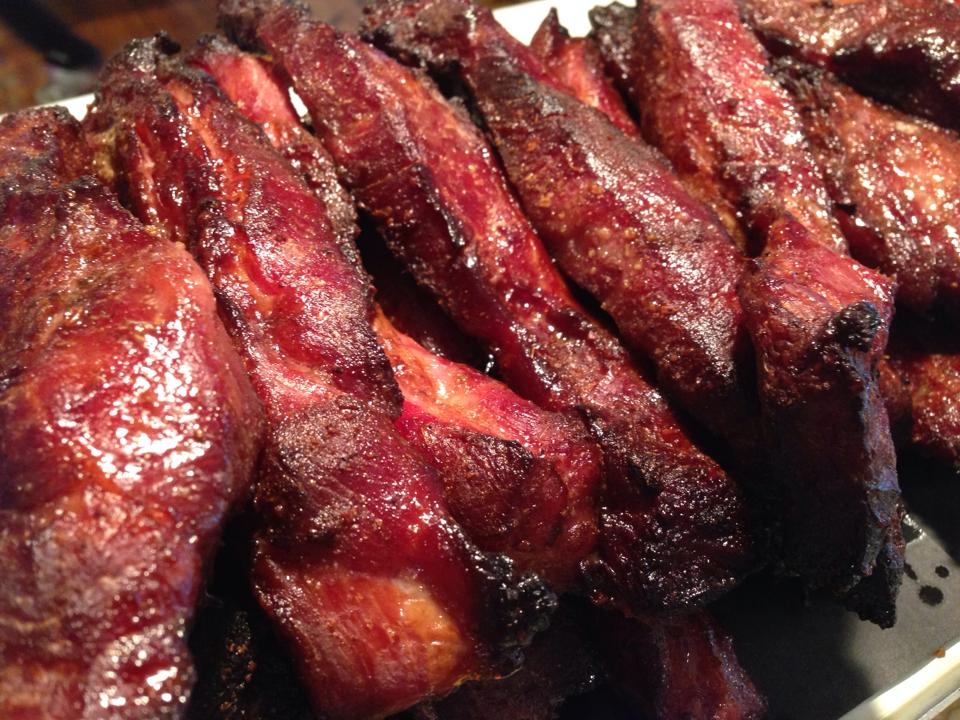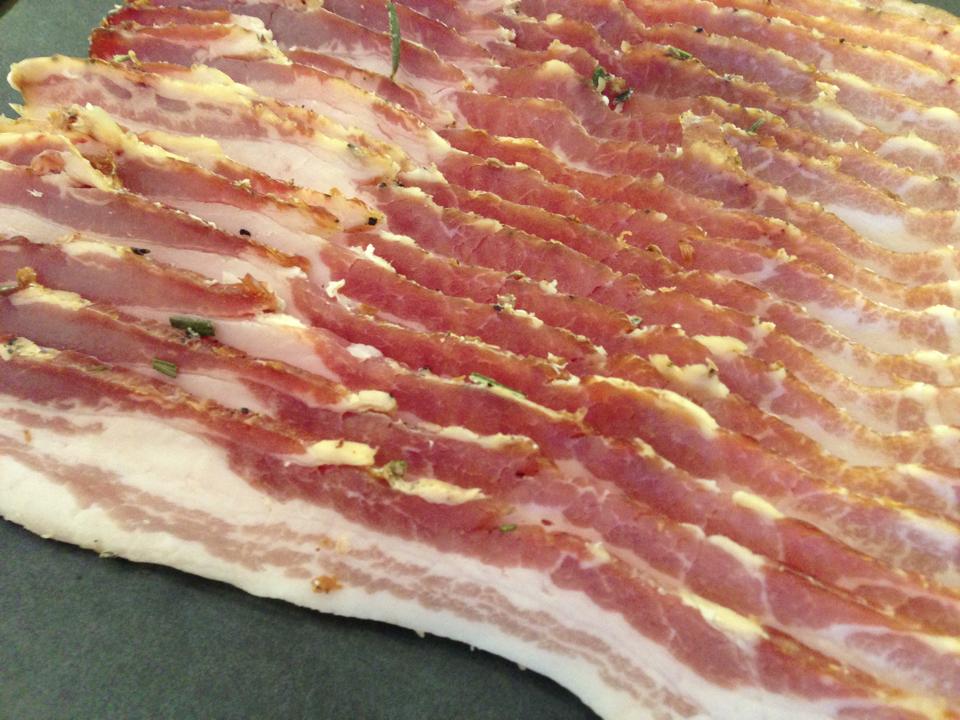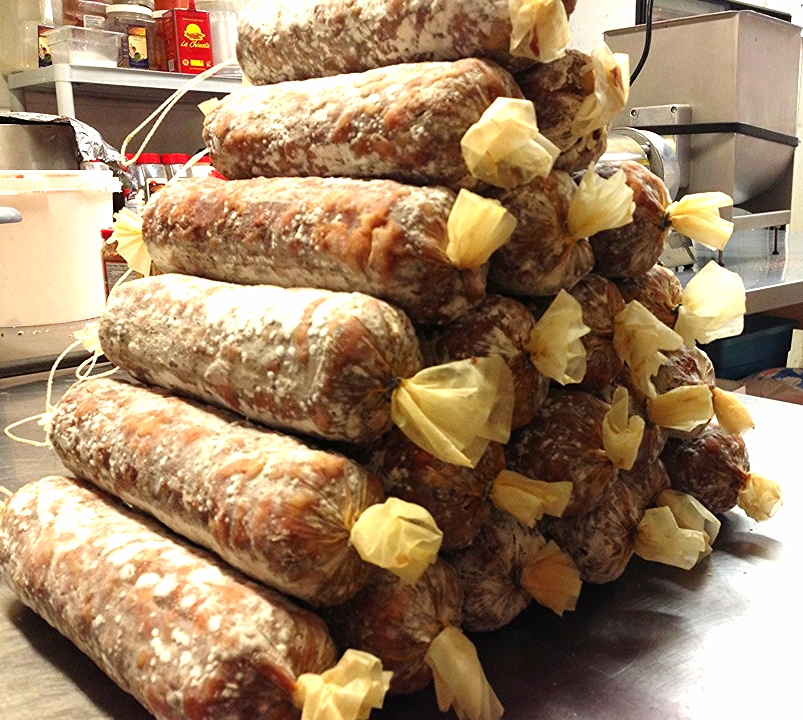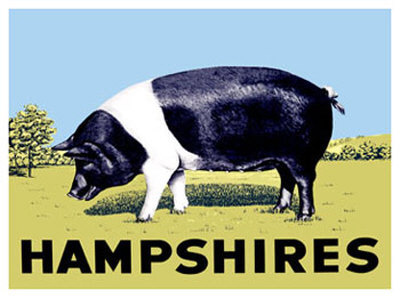 The Whole Beast produces a wide variety of cured meat products made on premises utilizing whole animals sourced locally when possible. We also have a line of preserves including sauerkraut, kimchee, pickles and mustards.
Our rotating product list includes:
SALAMI DI NOCI
SALAMI CALABRESE
VENETIAN SALAMI
FINOCCIONA
SALAMI LIMONE E FINOCCHIONA
DRY CURED CHORIZO
SALAMI PARMIGIANO
COPPA
LONZINO
LOMO
GUANCIALE
PANCETTA TESA
TASSO HAM
COPPA DI TESTA
MORTADELLA
LARDO
MAPLE ROSEMARY BACON
OLD FASHIONED HAM
SMOKED TURKEY BREAST
N'DUJA
GARLIC COIL
PEPPERONI
ANDOUILLE SAUSAGE
CHORIZO
BAVARIAN SMOKIES
EUROPEAN WEINERS
HEAD CHEESE or COPPA DI TESTA
TROTTER BRAWN
SMOKED DUCK BREAST
SMOKED CORNED BEEF
LIVERWURST
RILLETTES
CHICKEN LIVER PARFAIT
CORNED BEEF
BLACK PUDDING
We've asked our team to answer a few questions to help you get to know them.
Cory Pelan: Owner Operator/Marketing/Sales
Cory Pelan has over 20 years in the food industry cooking in many of the best kitchens in Victoria and the lower mainland. It is his passion for traditional curing methods and flavor combinations that is the corner stone of his business and has fueled its success to date. He is also an outspoken champion of the sustainable food movement with many connections to food security initiatives on Vancouver Island and the lower mainland. Past president, treasurer and current board member of The Island Chefs Collaborative http://www.iccbc.ca/, former board member for Slow Food Vancouver Island http://slowfoodvancouverisland.blogspot.ca/, and stewardship team member representing Vancouver Island for Farm Folk City Folk
Dave Smith: Production Manager
Barett Sexsmith: Salumiere
David Brunn: Salumiere
Madone Pelan: Co-Owner/Official Product Taster
Q1) How long have you been with the Whole Beast? Well I am married to the Beast so have been there since it's inception.
Q2) What do you do here? Although I am part owner, the Whole Beast is not my day job - I jump in to help out whenever needed and assist with the Marketing, Social Media and PR. You wont find me in the back butchering but may see me working the front of the retail shop on occasion as well as assisting at many of the festivals we take part in.
Q3) What is your favorite product we carry at the moment? That is so hard to answer as it seems to change with every season. Right now I'd have to say the Chicken Liver Parfait, aka "Paleo Ice cream". FYI - One jar is never enough. Save yourself the trip and just buy two.
Q4) What do you do in your downtime? Downtime? What's that? Just kidding! I actually enjoy distance running and The Whole Beast will be sponsoring my next half marathon. I will need a t-shirt with a slogan - "Fuelled by Bacon"? Open to suggestions!
Q5) What was your most memorable moment in the past year? Again, it is difficult to choose just one. We have been a part of so many great festivals and local community events that have been a lot of fun. I think being recognized by Douglas Magazine as one of the top 10 to watch new business was up there. It was such a huge honor so early on, it gave us a real boost.
PARTNERS AND SUPPLIERS
Below are some of our wonderful partners where you can find Whole Beast products (Click on each directly to learn more):
April 2015
2015 Eat Awards, now available live online http://eatmagazine.ca/2015-exceptional-eats-award-winners/
April 2015
food in canada Magazine - The nose-to-tail movement - going whole hog http://www.foodincanada.com/features/going-whole-hog/
March 2015
A huge thank you to everyone who voted for us in this year's Eat Awards. We truly have the best customers in the business - you guys rock! In case you haven't seen it yet, you can find the awards on pages 31 and 33. http://issuu.com/garyhynes/…/eat_magazine_march___april_2015
January 2015
In case you haven't already, make sure to pick up a copy of this month's Eat Magazine and check out the article on Nose to Tail preparations (including a few quotes by Cory Pelan) http://issuu.com/…/eat_magazine_january___february_201_1a7b…
January 2015
Victoria Beers - Extreme Beer at The Whole Beast http://victoriabeers.com/extreme-beer-whole-beast/
June 2014
Salt Magazine - Island Culture, Foodie Fare - by Kathryn McAree - http://saltmagazine.ca/vancouver-island-charcuterie/
December 2013
Western Living Magazine - Victoria, BC Travel Guide: Oak Bay - by Stacey McLachlan - What to do in Oak Bay
May/ June 2013
northwest Travel Magazine - A Day in Oak Bay, Victoria, B.C. - by Crai S. Bower
May 2013
Slow Food in Canada - 2013 Hero's http://slowfood.ca/blog/2013/05/22/2013-food-heroes/
April 2013
Victoria Culinary Underground - The Whole Beast https://victoriaculinaryunderground.wordpress.com/2013/04/08/the-whole-beast-cory-pelan-and-geoff-pinch/
March/ April 2013
Eat Magazine's Exceptional Eats Awards - Best Place to Buy Meat - http://issuu.com/garyhynes/docs/eat_magazine_march_april_2013_bc_issuu
March 2013
Douglas Magazine - Top 10 to Watch Winner - https://www.pageonepublishing.ca/publications/DAM13/index.html#/52/
http://douglasmagazine.com/headlines/16332-douglas-10-to-watch-winners-2013-you-need-to-know-these-businesses.html
March 2013
go!Island Check's out Douglas Magazine's Top 10 to Watch - *see us at 3:37 mark https://www.youtube.com/watch?v=C1SYEyJg5Lc
March 2013
urban diner - Lunch from a Broad - lunching in the Capital - by Shelora Sheldan http://urbandiner.ca/2013/03/21/news-from-a-broad-lunching-in-the-capital/
February 7, 2013
Oak Bay News - A Taste for the Whole Beast - http://www.oakbaynews.com/news/193620751.html
September 1, 2012
Thanks for stopping by Rick Bayless! https://twitter.com/rick_bayless/status/241999759898996736 `````````````
September 2012
The Globe and Mail - Is the rap against bologna just a bunch of baloney? by Wendy Leung http://www.theglobeandmail.com/life/parenting/back-to-school/is-the-rap-against-bologna-just-a-bunch-of-baloney/article4518660/
August 24, 2012
The Globe and Mail - A new smorgasbord of delights in Victoria - by Alexandra Gill - http://www.theglobeandmail.com/news/british-columbia/a-new-smorgasbord-of-delights-in-victoria/article4498771/
August 2012
Canadian House & Home, page 8 - Meat is the Cure!
February 2012
Shaw TV - Carving Up The Whole Beast https://www.youtube.com/watch?v=zcAQ9robDy0
January 2012
BC Living Magazine - Victoria's Art of Cocktail Festival - by Catherine Roscoe Barr http://www.bcliving.ca/food/mastering-mixology-at-victoria%E2%80%99s-art-of-the-cocktail-festival
December 2011
Good Food - The Whole Beast http://goodfoodca.blogspot.ca/2011/12/whole-beast-artisan-salumeria.html
Fall-Winter 2011
FarmFolk, CityFolk Chef of the Season - Chef Cory Pelan http://issuu.com/nichemedia/docs/410014_niche_proof/16
September, 2011
Eat Magazine - The Whole Beast - by Julie Pegg http://issuu.com/garyhynes/docs/eatmagazine_september_october_2011/10
August 17, 2011
Island Artisans - by Don Genova http://blog.dongenova.com/island-artisans-the-whole-beast-artisan-salumeria/`
July 11, 2011
The Victorian Food Blog - The Village Butcher & Whole Beast Artisan Salumeria http://www.victorianfood.ca/2011/07/village-butcher-whole-beast-artisan.html
July 2011
The Sunday Evening Post https://vimeo.com/45590532